This is not an official site.
Northern Territory Police
N.T.P badge history.
Note: The State arms, seal and name: Northern Territory Police are Copyright © State of Northern Territory, Australia.
The Australian "Coat of Arms" is: Copyright © Commonwealth of Australia.
HRH "The Queen's Crown" ("Saint Edward's Crown") is: Copyright © The Royal Household and its use granted solely by Royal Warrant.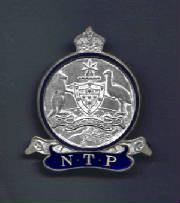 The N.T.P. King's Crown Police hat and ID badge; known as the "Two Bob" badge (similar to the Two Shilling coin when new) or the "Penny" badge (because as the silver plate wore off it, the base metal would show through).
* One of the Rarest. c 1917. Early versions had no blue enamel. A restrike and fake replicas exist.
Ozbadge thanks: Peter Hamilton.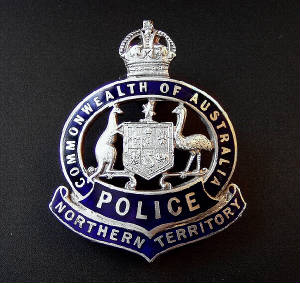 The Commonwealth Police, King's Crown Hat Badge; with Northern Territory plinth. The first Australian State to officially wear the "Akubra" or "Lemon squeezer" style hat on duty in various styles; with this badge. Hallmarked "STOKES" , "STOKES MELB" or "STOKES AND SONS ". Issued from c 1927 - 1960. The "Northern Territory" plinth was probably added to this badge, phased in and issued around 1949.
Extremely Rare; with attached plinth.
WARNING: Use of the Commonwealth Coat of Arms without permission may breach the Trade Practices Act 1974, the Trade Marks Act 1995 and the Criminal Code Act 1995. Importation of goods bearing the Commonwealth Coat of Arms is prohibited under the Customs (Prohibited Imports) Regulations.
BE AWARE of fake, chrome or nickel replicas; some made with hard-fired, vitreous enamel and some are marked "Stokes and Sons Melb". The original badges ARE hallmarked and made of two (2) separate pieces (badge and plinth) soldered together; ie, not a "one piece" badge.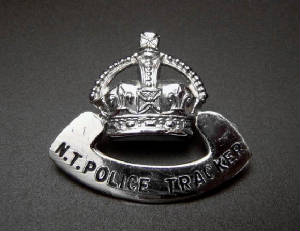 The N.T. Police King's Crown Tracker badge. c 1920-1950. Hallmarked "Stokes". Normally worn on Akubra style hats. Extremely Rare.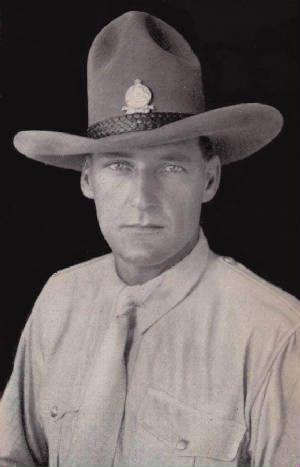 .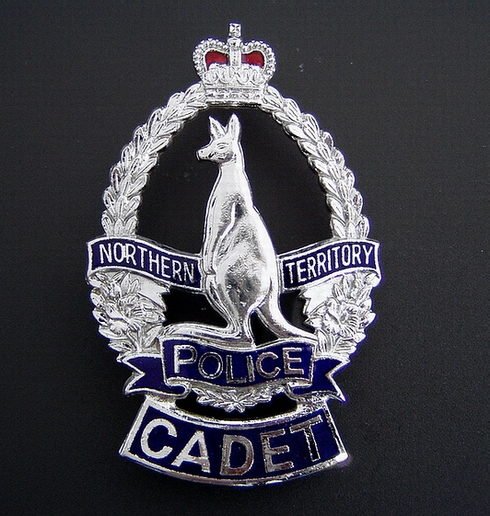 A new Northern Territory Police cap badge badge design know as the "Skippy" badge was introduced in c1965 (and later an ID badge). The Northern Territory Police cap badge with the obsolete Cadet "plinth" is shown above. c1980. It is numbered with a "C" prefix and Hallmarked "K.G.Luke" or "Brim Melb". Rare.
The Territory won self-government and gained local control of Northern Territory Police from the Commonwealth government in 1978.
A gold "Detectives" badge was issued in 2011; with a number in a small plinth.
Note: Apparently there are now fakes of this badge out there. To see the real issued, badge go to:
The real "issued" badge and holder is apparently made by a well-known Melbourne badge maker.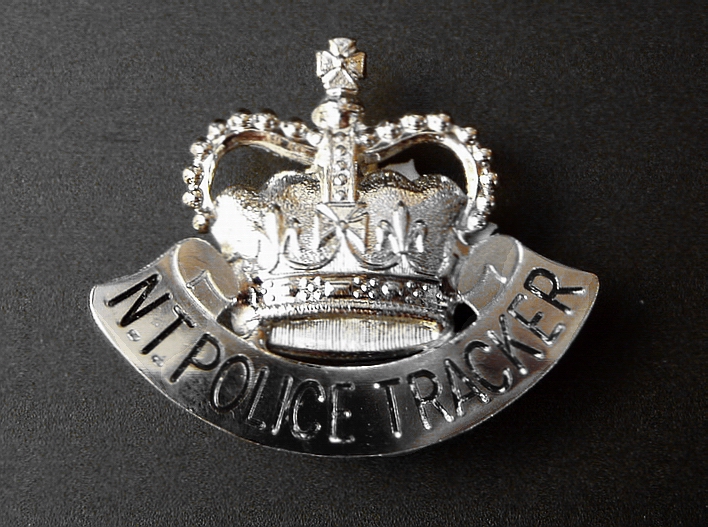 The Northern Territory Police obsolete Tracker QC hat badge. c1953 -1980. All N.T. Trackers were phased out in the 1980's. Many became NT Police "Aides". There are at least three variations to this badge; some may be copies. Very Rare.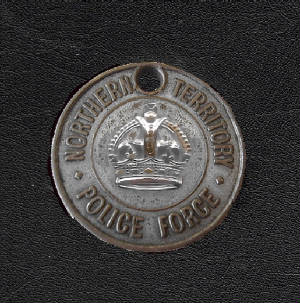 Northern Territory Police Force ID Fob badge. Issued to Detectives and plainclothes officers. c 1940 Extremely Rare.





x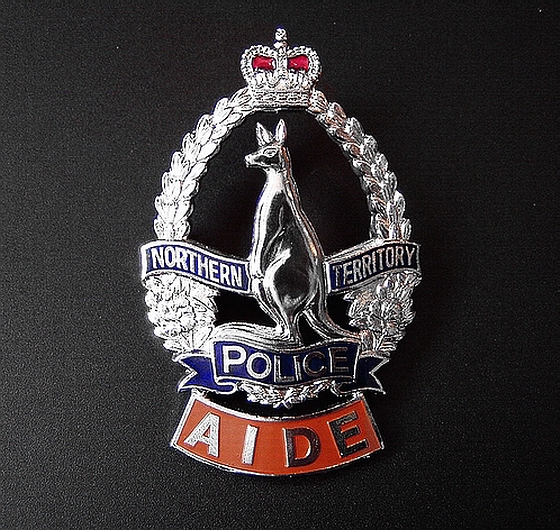 The Northern Territory Police QC obsolete "Aide" or "Tracker" Akubra badge. Also in a "red" plinth version. Both are numbered on the back, with an "A" prefix and maker hallmarked. Rare.
Note: Apparently there are now fakes of this badge out there.
There is also a current, flat, ID or wallet version ("Freddie'") of the "Skippy" badge (with a blue enamel background). which is issued in a numbered leather wallet.
On two versions of the ID badge, the word "POLICE" is replaced with "Aboriginal Community Police" or "Police Auxiliary" in the plinth area.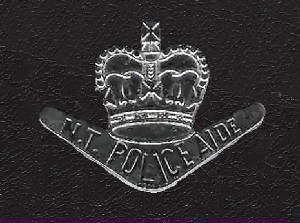 The Northern Territory Police obsolete "Aide" QC hat badge. The "Aide" or Aboriginal Police Community Officers were enlisted in the late 1970's. This badge was replaced with a "Skippy" version in the 1980's (see directly above); which has now also became obsolete. Very Rare.