Please Note:
Ozbadge is a virtual museum. It is an educational web site, for research and historical study only; an exhibit of a collection of images, information, news and comment for general public interest and/or entertainment. It is a "library" of a part of Australia's rich, cultural history and heritage. Ozbadge and its owner/s are in no way associated with, affiliated with, connected with, sponsored by, employed by, or endorsed by any Police or Law Enforcement Department or Agency, particularly those that are referred to on the site; except as authorised.
NOTHING is available for sale, trade or barter from this web site.
The " Studio" is for historical enquiries only. You must have written agreement from us, to download any image or text; partially or wholly.
User Agreements, Disclaimers and Conditions of Use are on the Introduction page; FULLY READ, before proceeding. You must have written permission to use, reproduce or download anything from this web site.
By clicking your mouse, touching a screen or doing anything in order to enter or view the "Ozbadge" web site/s you Agree that any of this/these action/s constitute/s your total acknowledgement, full understanding, Total Agreement, full accountability and total compliance of and/or for and/or to, ALL of our * Disclaimers and Terms and Conditions of Use; whatsoever.
This web site and all its contents (including comment, photos and images) and/or products are, where applicable, Copyright © Ozbadge and/or the relevant owners and/or Public Domain. All Rights Reserved.
This public exhibit, website, collection of images, news and comment is pursuant to:
The Commonwealth of Australia Freedom of Information Act 1982. The National Conservation and Preservation Policy for Movable Cultural Heritage © 1995. New South Wales Police Act 1990; as amended, Section 203 (5) (6). The Enhanced US Federal Security Act of 2000, Chapter 33, Title 18, Section 3, Sub-section 716(b); also known as US Public Law 106-547. Michigan State Compiled Laws; Section 750.216a, Subsection (1): (a,) (e) (f); where appllcable. And protected by the US Bill of Rights: Article the third [1st Amendment].
Ozbadge © Copyright: 2004-2023. PAll rights reserved.
Ozbadge (R) (and devices including the "Oz" and "chequered steps" devices) are Registered and/or pending Trade Mark's of Australia and/or the USA.


Ozbadge TM
Registered Trade Mark.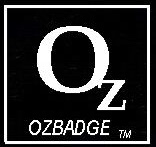 Ozbadge Tm. aka Registered Trade Mark .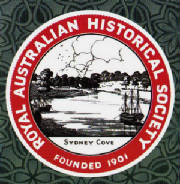 Ozbadge is a Member of the Royal Australian Historical Society and is an Institutional Member of:
MUSEUMS AUSTRALIA, a partner of ICOM.
ICOM is the International Council of Museums, Paris.
_________________*____________________

If you scan this QR code, any terrms, conditions and
the privacy policy of the barcode reader that you select,
may apply. Message and data rates may also apply.
Copyright © 2022 Ozbadge.com
_________________ _________________________
*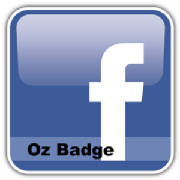 Oz Badge is now on Facebook.

__________o_______________

Visitors from Circa: January 22nd 2004:

Oz Badge and its owners are proudly Australian.

Ozbadgecom Ozbadge's Aussie Badge Copyright © Ozbadge 2000-2022; and onward.