This is not an official site.
The first official State Police badge of
New South Wales:
the New South Wales Police Force "Queen Victoria Crown" helmet plate.
Circa 1862.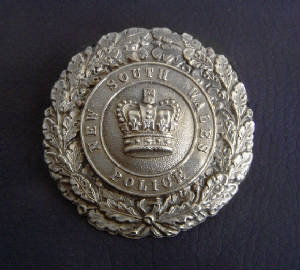 The New South Wales Police Force,"Queen Victoria Crown", roundel helmet plate was issued soon after the formation of the New South Wales Police Force, by the Police Regulation Act, No. 16, on 1st March,1862. This Act consolidated nearly all of the disperate Police Forces in the Colony of New South Wales, into one centralised body.
However, this beautifully engraved, custom made, helmet plate was eventually replaced by a new, military style, QVC helmet plate (see N.S.W. Police Force page); probably due to the fact that it did not follow Royal protocol, by having the crown at highest point of the badge. * N.S.W.'s first official State Police badge and possibly Australia's rarest, custom made Police badge. Only 2 of the original examples are thought to have survived. One is at the Justice and Police Museum in Sydney.
Foreword.
This beautiful, "New South Wales Police" roundel helmet plate (above) was the first officially designed and custom made, state Police badge of the Australian Colony's newly formed: New South Wales Police Force.
The Police Regulation Act, No.16 of 1862, finally consolidated the organisation, control, administration and powers of all Police authority in the Colony of New South Wales, into one centralised body. A previous attempt at unified control of all Police in New South Wales, under an Inspector General, had been made in 1850 with Act No.38, but unfortunately this act was repealed in 1852 with Act No.33; apparently due to some overseas imperial politics of the time. This new act combined the NSW Metropolitan Police, the Sydney Foot Police, the Mounted Police, Water Police, Mounted Patrols, Gold Escorts, Native Police, Bench Constables, Night Watchmen and His Excellency the Governor's Mounted Escort, into one Force; all reporting to an " Inspector General of Police".
South Australia formed a "Constabulary" in 1838. Victoria began to consolidate their "Constabulary" in 1853. Queensland centralised their Police forces in 1863. Western Australia enacted the Police Act of 1892 and Tasmania amalgamated their various Police Forces in 1899. Up until then, various styles and pieces of generic British military type uniforms, badges and helmet plates, tipstaves and paper warrants had been used as a means of indentification by these disparate law enforcement bodies of the time; many wore no insignia or uniform at all.
Below is a studio photograph of Senior Sergeant Charles Dalton, wearing the "full dress" uniform of the New South Wales Police Governor's Escort (Orderlies); a "carte de viste" by Freeman & Co, circa 1880. (An even earlier studio photograph of Dalton in uniform, also taken by Freeman in 1876, appears on the N.S.W. Police Force page).

Dalton was born in St. Lukes, London, England in 1832 and served with the 8th King's Royal "Irish" Hussars during the Crimea War; including the Charge of the Light Brigade and the Indian Mutiny. The uniform he is wearing in this photo, looks similar to that of a Senior Sergeant in the King's 8th, however, the white, British style, "foreign service" helmet next to him, interestingly bears the first N.S.W. Police helmet plate; as illustrated above. It is this author's opinion, that Dalton may have fashioned his N.S.W. Police uniform on that of his old military unit. Commissioned Officer's in the N.S.W. Police Force and other Police Forces in Australia, soon began to wear and would continue wear subdued, "hussar" style, undress jackets, from the 1880's up until the 1940's.
Dalton had a very interesting life. After service in India, it seems Dalton may have officially travelled to Australia on board the P&O mail steamer, S.S. "Northam", as "escort" to the newly appointed NSW Administrator and soon to be, Governor in Chief of Australia, Lord John Young and his wife, Lady Adelaide (Annabelle Tuite-Dalton) Young. They arrived in Sydney in 1861 and Dalton, it was reported, fell in love with Australia.
In 1862, and most likely pursuant to new Police Regulation Act of 1862, Dalton was officially discharged from H.R.H military forces, after 12 years and 70 days service, with the "Good Conduct badge"; possibly whilst still on active service at the Governor's pleasure. He and his elite, mounted troopers (known as "the Governor's Escort" ) were to become one of the last of the disparate " law enforcement" bodies in N.S.W, to be officially amalgamated into the newly formed: New South Wales Police Force. He became officer No. 1342 and was then transferred to the Western District; stationed in Goulburn. In 1864, seemingly under the advice or at least with the approval of Governor Young, his duties were transferred back to Sydney, to the old "Police Depot" and specifically to the "Governor's Escort / Orderlies". The old "Police Depot" is where Police troopers for the "Governor's Escort" (Governor's Orderlies), "Gold Escort", the "Mint" and the "South East District" were then stationed or accounted for; and where, interestingly, Sydney Central Rail Station, in George Street, now stands.
After the attempted assassination of the visiting Prince Alfred, whilst he was attending a picnic at Clontarf on the 12th March, 1868, Dalton was ordered to full-time, duty at Government House, as guard to the "Royal Personage". He was promoted to the rank of Sergeant on the 1st July, 1868 and on the 6th March, 1869, was assigned the title of "Officer In Charge" of the N.S.W. Police "Governor's Escort". He was officially promoted to "Senior Sergeant" on the 1st June, 1878; although it is believed he was "acting" in that rank from, at least, circa 1876.
Dalton and his family (and four other N.S.W. Police "Mounted Troopers") moved into and occupied the "Government House Household Cavalry" building and stables ( now known as the "Conservatorium of Music") from where, over the next 20 years, he commanded this elite troop that would go on to protect the next seven (7) official Governor's and their families. During those next 20 years, the "upper rooms" of the building, were used by the Dalton's as their family home and it was from there where most of his ten children, from his marriage to wife Jessie, were born and raised. Of note: Mrs. Jessie Dalton (nee: Fitz-Simmons), had been employed on the Governor's staff since at least 1861; and was most likey "Lady In Waiting"
to at least Lady Young. Apparently, she first met Charles Dalton onboard the S.S. "Northam", during her voyage to Australia, from Great Britain; whilst both part of the entourage of the future Governor and his wife.
The "Government House Household Cavalry Barracks" building is located in Macquarie Street, Sydney; a beautiful, ornate building specifically designed to house "His Excellency" the Governor's Escort, et al, by the talented "gentleman convict" architect: Francis Greenway. This building was originally, fully situated inside "Government House" grounds, but the large ornate entrance gates and small guard house, originally situated across the top of Hunter Street, were unfortunately moved back in c1960, to accomodate the ramp to the "Cahill Expressway".
This historic, building is currently being used by Sydney's "Conservatorium of Music".
In 1872, the Dalton's had another daughter, who was named, Antoinette Mary Dalton; my Grandmother was born at Government House, Sydney, as were six of her other brothers and sisters. (see below)
Dalton became instrumental in the founding of Australia's first official independent Military Force, the "Sydney Light Horse", because of his access to the then Governor, Lord Loftus. Please see: THE ROYAL N.S.W. LANCERS 1885 -1960. Edited by P.V. Vernon. Available here: http://www.lancers.org.au/
Inspector John Bevin, of the New Zealand Police Force (another 8th Hussar who "came through" Balaclava; see the "Charger list" (as named above), whilst stationed in Dunedin, had written a letter of introduction to Charles Dalton, for a Mr. Robert Roland Thompson, who was a former Sergeant of the 4th Dragoon Guards. It was Dalton's access to then Governor, Lord Loftus, that led to the formation of the first (Volunteer) Australian (Sydney) Light Horse; and to R.R Thompson becoming it's first adjutant in 1887. Apparently, the articles for the formation of Australia's first, official Light Horse troop, were written in the Dalton's dining room, at the now "Conservatorium of Music".
During the excavations for the underground additions for the Conservatorium of Music site in 2000 (or more appropriately, the Governor's Household Cavalry Barracks site), many family household and personal items that probably belonged to the Dalton family and issued and marked Queen Victoria "crowned" items from the N.S.W. Police, (including badges and buttons) were excavated from this site, and are still there now, on display.

By all reports, Dalton was also an accomplished horse rider and shot and in his early days, had accompanied Captain Zouch, a fellow N.S.W. Police officer, on his excursions to hunt down bushrangers on the Goulburn plains.
On the 31st October 1889, after more than 25 years with the Governor's escort and the N.S.W. Police Force, Senior Sergeant Charles Dalton, retired and moved with his family to their new home in Balgowlah.
My Great, Grandfather, Senior Sergeant Charles Dalton died on the 5th February, 1891, after a thrilling, adventurous and rewarding life.
I am sure there is a unique story behind each and every badge; if only they could talk.
Please enjoy the site.
Michael Neville.
January 21, 2004.
Updated.
About Mike Neville and Discovery:
.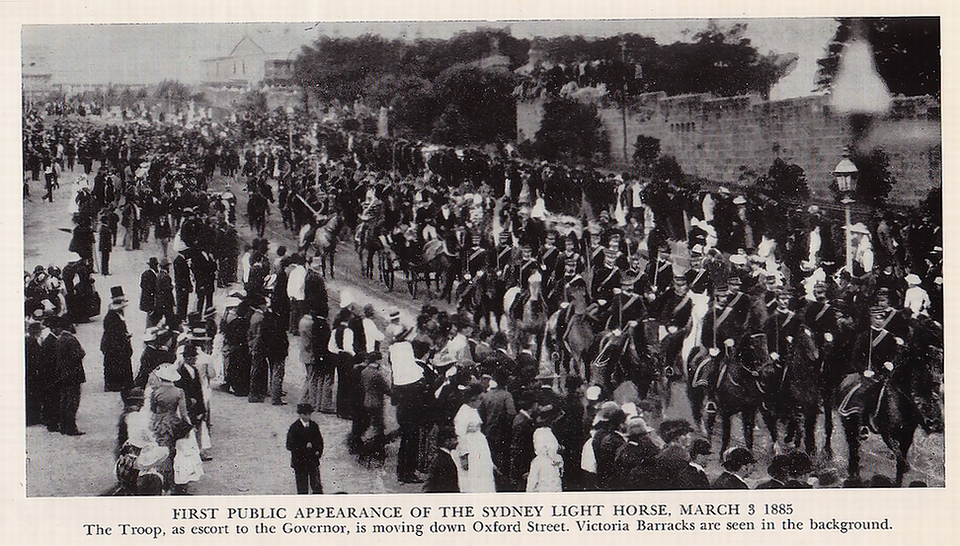 The first Australian military troop, the Sydney Light Horse, made its first "official" public appearance
on the March 3 1885; as honorary escort to Governor Lord Loftus, to farewell the troops to " the Soudan" (Sudan).
They used "fishing poles" for lancers. Swords and bridles were supplied courtesy of the NSW POLICE via S/SGT. Dalton;
seen riding on the flank next to the Governor's carriage. Click to enlarge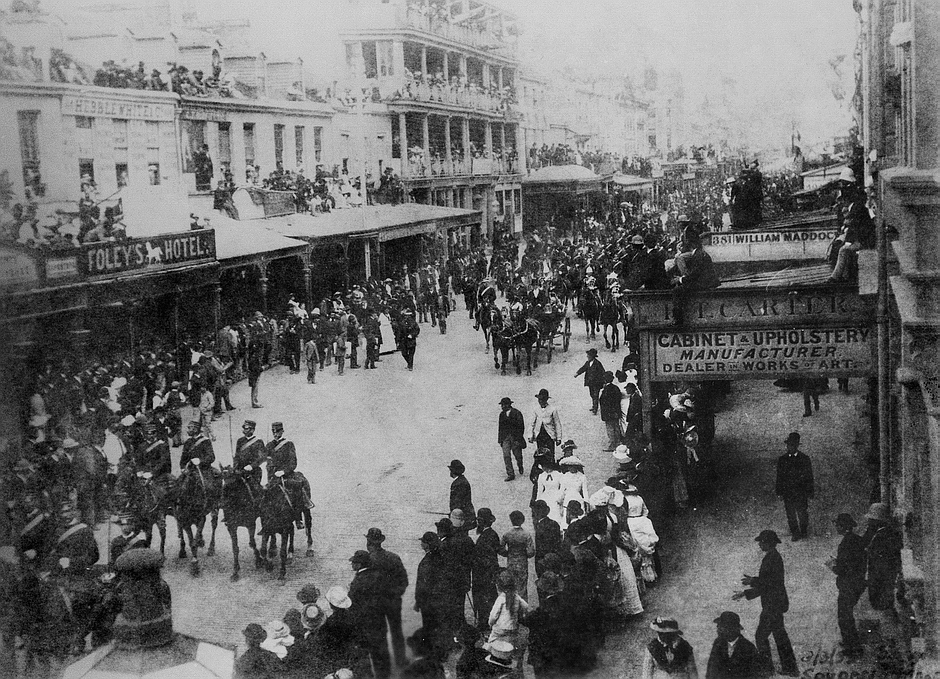 Travelling down George Street, towards Circular Quay: the first Australian troop, the volunteer Sydney Light Horse,
made its debut on the March 3 1885; as escort to Governor Lord Loftus. S/SGT Dalton is seen riding on the flank of the carriage;
next to the Governor.
© Copyright Australian War Memorial. Click on thumbnail to enlarge.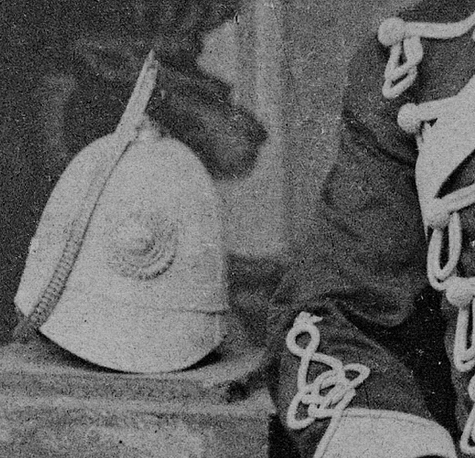 Click on thumbnail to see detail of the first NSW Police badge (helmet plate).
© Copyright Australian War Memorial, Ozbadge and families.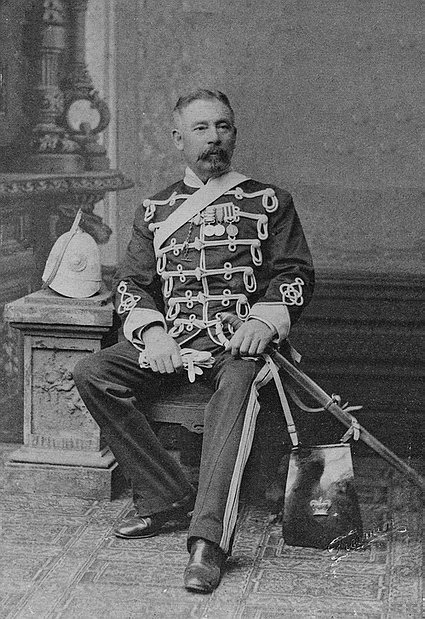 Senior Sergeant Charles Dalton wearing the uniform of the NSW Police Governor's Escort;
which is almost identical to that of 8th King's Royal Irish Hussars.
His NSW Police helmet with the first helmet plate are displayed next to him. Freeman: c1880.
© Copyright Australian War Memorial, Ozbadge and families.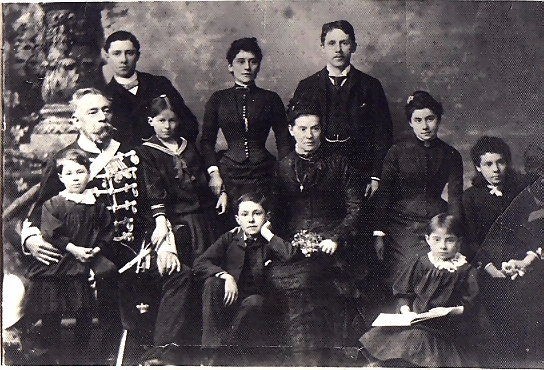 The Dalton family c 1888.
After 25 years with the NSW Mounted Police at Government House Barracks, Dalton retired and the family moved to Balgowlah.
My Great, Grandfather, Charles Dalton, died in 1891.
Welcome.
Welcome to Ozbadge.com and some very Rare and Historical Australian Police Badges and Helmet plates. It's a virtual Museum, so enjoy your tour, as we go back in history!

This website is dedicated to the thousands of people "behind the badge"; the Law Enforcement Officers around the world, who put their lives on the line every day, to protect our families and our way of life.

In particular, it is of course dedicated with special thanks, to all the Law Enforcement agent's and officer's of Australia; past and present.
It is a mandarory requirement that you firstly, fully read and fully agree to all "The User Agreement, Conditions of Use and Disclaimers " of this web site, (below); and only then, may you proceed to continue your visit and enjoy observing the contents!

This site is continually evolving and submissions of photographs of rare, historical items and any informational updates, news and/or corrections are welcome.
Please email photographs in JPEG format; or news or comments to: donate@ozbadge.com
There is more to come! Thank you for visiting Ozbadge.com and please support your local Police; wherever in the world you may be, because one day, you may need them!
Enjoy the website!

Ozbadge:
Australia's Virtual Police Badge Museum.